Fundraising

A Saddle For RDA Danny
Over the last few months LW RDA have been fundraising for a new saddle for our much loved pony Danny. We needed to raise over £500 to purchase a lighter, more suitable fitting saddle that was much more adjustable to keep Danny comfortable throughout the year.
We are VERY grateful to some extremely kind supporters who at just the right time donated the funds and the new saddle is on order!
Our heartfelt thanks goes to ( in no particular order)
Andy Woods and all his colleagues at The Hansen Group (http://www.hansengroup.biz/hg5/hansenmillennium/ ). Thank you Andy for organizing a donation from your team! Andy's Daughter Hannah is one of our much valued team members and she is training to be a coach along side her final year of her BSc(hons). We are very lucky to have families like the Woods who support us at LW RDA!
Carol Garside and her team at The Co Op Newmarket Store, Louth (https://www.facebook.com/coopnewmarketlouth/) Carol is a long term supporter of our group and is always on hand to help us out. We are very grateful for their support in raising funds for Danny's saddle.
Olivia at Wolds Equine Sports Massage (https://www.facebook.com/woldsequinesportsmassage/) also helped us reach our goal along side some of her students who got to know Danny over their course held at our center.
Without donations like these equipment and the upkeep of the ponies is very hard. We are grateful for all donations large or small toward the running cost of the yard. Our next target is a new saddle for Cracker, if you would like to donate then please drop us a message.
An Audience with Ros Canter - November 2017.
LW RDA are very lucky to have the ongoing support of Ros Canter and her family who live locally to us. In November this year Ros kindly offered to host a day of demonstrations to help boost our funds.
Ros finished the 2017 eventing season in 6th place overall in the worldwide FEI world ranking, along with winning a European gold medal and numerous other wins and places this year, it was a great opportunity to watch and learn.
The day was a great success, even with the plummeting temperatures! Over 70 local people came out in force to watch Ros jump one of her young horses, Poppy in a great demonstration on how to teach and prepare the young horse for a life as a 3 day eventer. Ros' fitness shone through as she talked and explained everything via radio microphone whilst riding and jumping at pace!
Ros also rode her 4 star horse Zenshera ( pic above) in an advanced dressage demonstration ending with them performing one of their recent 4 star tests. Again Ros' informative narration of her riding and her explanation and reasoning was engaging for even the non-riders.
We also has a chance to meet AllstarB, Ros' other 4 star horse in his winter woolies, as he is just coming back into work after his holidays.
The day also included demonstrations from Jess at Excel Vet Physio. Jess treats our RDA ponies regularly for free and it was lovely to hear how and why she uses certain treatments for different horses. Top Crop Haylage and Emerald Green Feeds - 2 of Ros' sponsors and also local tack shop Lancasters came for the day.
Lincolnshire Wolds RDA would like to thank Ros, her grooms, horses and her mum Heather for putting on a fantastic day. For all their time, effort and costs to get all the horses and equipment to LRAC.
The day raised over £3,000 for Lincolnshire Wolds RDA and we are very thankful for everyone who came, donated or helped out in anyway.
Louth Hermes Lodge present cheque to Lincolnshire Wolds RDA group.
Last night, Mr John Scottern, Worshipful Master of Louth Hermes Lodge Masons presented us with a cheque for £1000. This grant is just one part of the £102,500 the Masons have presented in the Provence of Lincolnshire. The Masons support many local good causes and we are very grateful to be one of those chosen.
We would like to thank Mr Scotthern and all at his lodge for supporting Lincolnshire Wolds RDA, their donation has moved us so much closer to ordering our interactive Racewood riding simulator. This simulator will expand our ability to offer riding as sport and as therapy to many more disabled people in our area.

Mick's Belmont 30 Long Distance Walk - THEY DID IT!
On Sunday 17th September 2017 Mick and others from the Long Distance Walkers Association attempted the Belmont 30 in under 12 hours. The 33.8 mile round route started at Lincolnshire Wolds RDA's base at the Lincolnshire Rural Activities Centre and the group successfully completed the tough route in under the 12 hour goal.
We send many thanks to Mick and his team for all the hard miles they completed in aid of LW RDA, your fundraising is much needed and very much appreciated.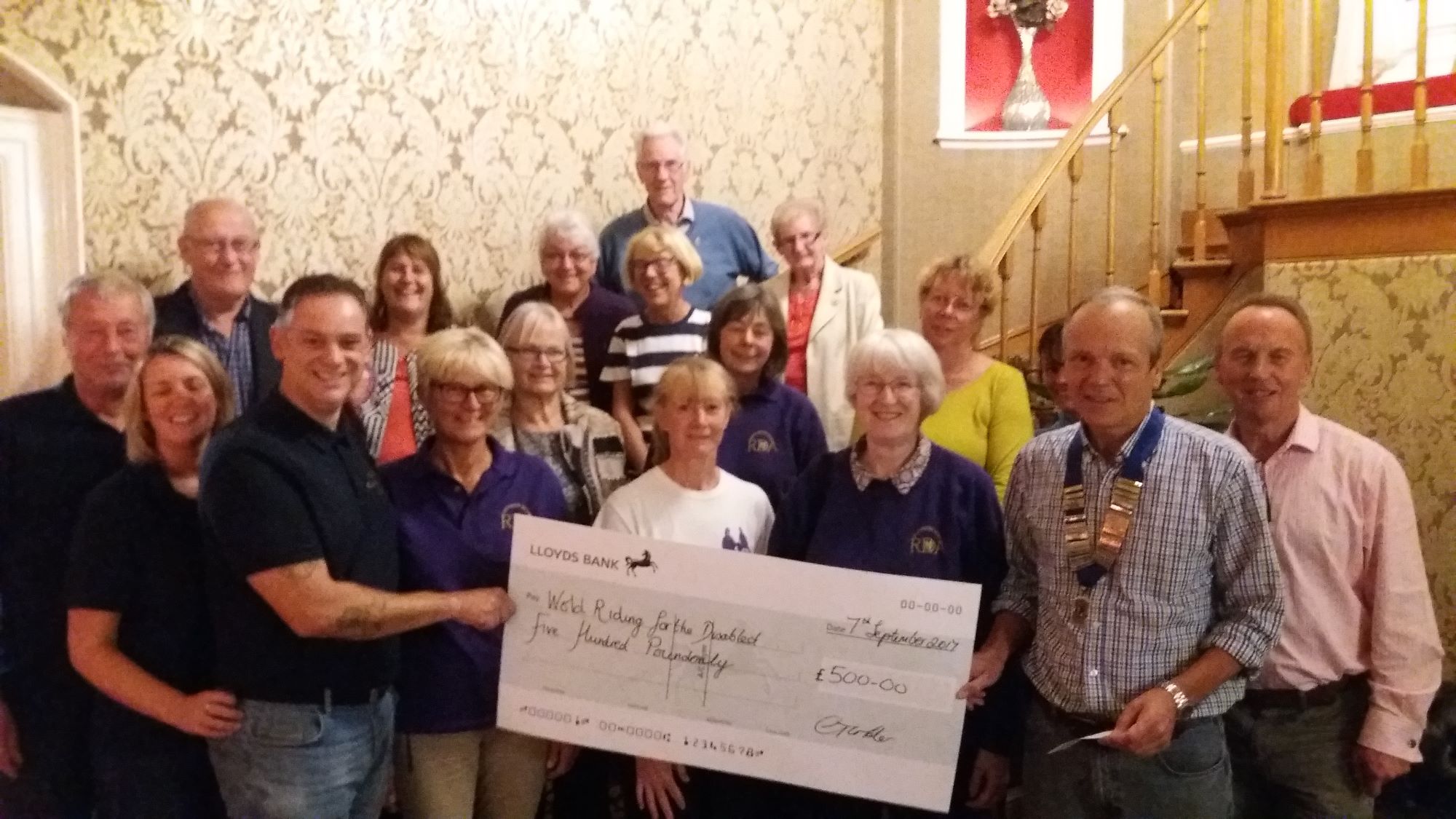 Its been a bust time for supporters of Lincolnshire Wolds RDA. On Friday our chairlady Janet and committee members Caroline, Ali, Jane and Julie received a cheque for £500 from our friends at Louth Lions. This much needed donation was from the Lion's very successful and well supported Classic Car Show, held earlier this year. We would like to thank all the Lions and their supporters for all their ongoing efforts and their very generous donation.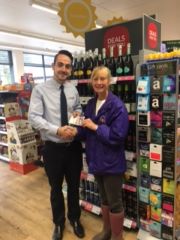 We would like to thank all the staff at The Co-Op store, Newmarket, Louth for their generous donation. The staff held a raffle in store and Caroline had the great pleasure of receiving the fruits of their labour.
We are very grateful to the Co-Op team for the time and effort they put in to fund raise for our group. Thank you!