Meet the Horses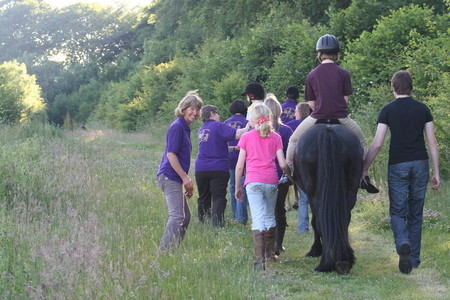 It takes a horse with a special temperament to be suited to RDA, it doesn't suit all horses and ponies.
We are fortunate to own, have on loan and borrow a range of horses and ponies of different types and skills, which enables the group to be able to offer riding and driving, to all ages and abilities.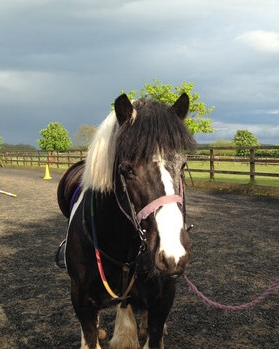 Danny is a 12 year old 15hh piebald cob, who the Lincolnshire Wolds RDA group bought in 2012.
Danny works hard for the group, giving rides on a Monday and Tuesday, and also driving on a Wednesday.
He is very gentle, though being a strong well-built cob, enables many riders to take up the opportunity of riding.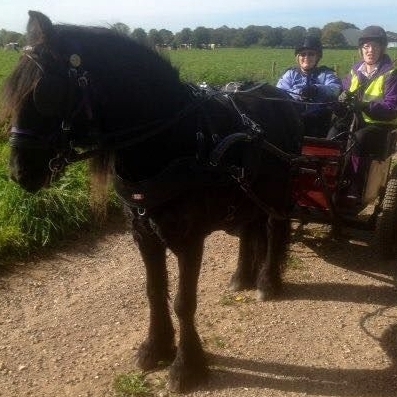 Helton Bracken VII is a registered Fell pony, known by the name of Cracker.
He is 13.2hh and 20 years old and has over his lifetime has given hours of enjoyment to both able and disabled riders - he has been helping us as an RDA pony for over 10 years.
He gives rides on a Monday and Tuesday and drives the carriage with wheelchair access on a Wednesday.
He is very reliable and versatile, enabling drivers in wheelchairs, to access the countryside.
Cracker is on loan to our group from the Canter family, to whom we are extremely grateful.

Macauley is one of the horses from LRAC, who we loan for our lessons.
Macauly is very kind and quiet in both his riding and driving roles. He loves sleeping in his stable and being groomed.

Harry is one of the horses from the LRAC ,who is kindly loaned to us for our lessons.
Harry is very gentle and loves attention. He is always happy to see everyone and has a moustache that rivals Bert Reynolds!